2019 News
Our Distinguished Speaker Dr. Marie Spivey was accepted to present at our next ATA Conference. She will give a 60-minute session on Friday, October 25, from 3:30 pm – 4:30 pm, on the subject "Leveling the Playing Field through Education and Healthcare."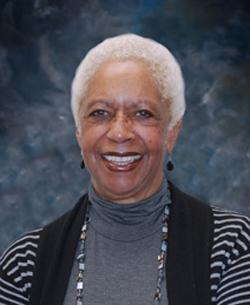 Dr. Spivey is a Registered Nurse who holds a Doctorate Degree in Educational Leadership and a Master of Science Degree in Public Administration – both from the University of Hartford. Most recently, Marie retired as the Vice President of Health Equity from the Connecticut Hospital Association (CHA) and is currently a Principal with Health & Equity, LLC whose mission is to help organizations develop an energetic, diverse workforce fully prepared to address health inequities and disparities. Dr. Spivey was the first Chair of the Connecticut Commission on Health Equity, and the New England Regional Health Equity Council (RHEC) which was the first of 10 such Councils across the country created by the U.S Department of Health and Human Services, Office of Minority Health. Earlier in her career, Marie moved from her former position as the CEO of the Charter Oak Terrace/Rice Heights Health Center to join the CT Department of Public Health as its first Bureau Chief of Community Health. She is a Visiting Professor at the UConn Health Center in Pediatrics, Community Medicine and Healthcare, the Center of Excellence in Health Disparities Research, and the Center for Public Health and Health Policy. During Dr. Spivey's tenure as Hartford Hospital's first African American Vice President of Community Involvement, she was responsible for the organization's expanded participation into the Greater Hartford communities through its Community Benefit programs and its mobile van Health Star. She also served as the hospital's loaned executive to become the CEO of the Learning Corridor – and as such launched Hartford's first 16-acre campus of 4 magnet schools and a performing arts theater. Marie utilizes her expertise by supporting diversity and inclusion initiatives in her role as an active member of the Connecticut League of Nursing.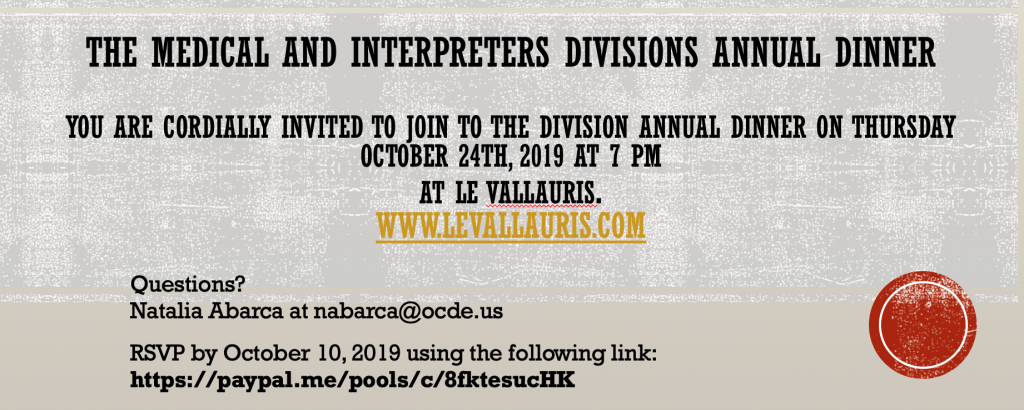 You are cordially invited to join the Annual Interpreters and Medical Division for the Division Annual Dinner on Thursday, October 24th, 2019 at 7 pm at Le Vallauris.
Last year we had a full house at our dinner. We recommend early registration this year. See registration link below.
Le Vallauris
385 W Tahquitz Canyon Way, Palm Springs, CA 92262
Le Vallauris is celebrating its 45th season.
The Palm Springs Valley highest rated restaurant by Zagat Survey, Open Table, TripAdvisor, Yelp & 4 Diamonds with AAA
http://www.levallauris.com/photo-gallery.php
Venue at the Tree Lined Gazebo
Menu (choose one of each section on site)
Soup and salad
Soup of the day
Caesar Salad with Reggiano parmesan
Bundle of Fresh Asparagus Dijon Mustard Dressing
Main course
Seared Lake Superior White Fish Served on a Bed of Sautéed Spinach and a Dijon Mustard Mousseline
Organic Vegetarian Medley of Vegetable Ravioli, Tomato and Basil Sauce
Grilled Prime Hanger Steak with Black Pepper and Mashed Potato
Grilled Duck Breast served pink, with Orange Zest Sauce, Potato cake and spinach
Dessert
Profiteroles
Vanilla Crème Brulee
Trio of Sorbets
Rolls and butter
Beverages: on a no-host basis, no beverages except Desert Springs tap water (cash and carry)
RSVP by October 10, 2019 using the following link:
https://paypal.me/pools/c/8fktesucHK
Cost: $80, including tax and gratuity
Payment is non-refundable and is expected at time of registration.
Please register early, since seating is limited.
Questions?
Contact Natalia Abarca at nabarca@ocde.us