Welcome to the Medical Division
The purpose of this website is to provide members with information about the Medical Division of the American Translators Association and facilitate a forum for members to communicate on topics of mutual interest and to share some of our materials.
While using our website, you will find lots of information, including:
News from ATA related to the medical profession
ATA webinars for medical translators and interpreters
Current and past issues of Caduceus, a semi-annual Medical Division publication
How to subscribe to the Medical Division's ListServ
Not a division member yet? Join the ATA Medical Division Now!
---
ATA Urges Inclusion of Medical Interpreters in Phase 1 Vaccinations
December 17, 2020 – Following the release of the U.S. COVID-19 Vaccination Program recommendations, ATA petitioned the Centers for Disease Control and Prevention to explicitly include on-site medical interpreters among the listed examples of health care personnel eligible for Phase 1 vaccinations. Twenty other organizations countersigned the ATA letter.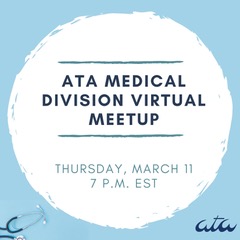 Join us on Thursday, March 11, 2021 at 7-9 pm EST for a relaxed chat among colleagues.
This event is free for MD members. Please register at events@ata-md.org to receive Zoom information!
We're very happy to announce this year's first ATA Medical Division virtual meetup. This is an excellent opportunity to network, communicate, and share. You will meet other language professionals, discuss interesting topics, and have a great time. We hope to see you there!