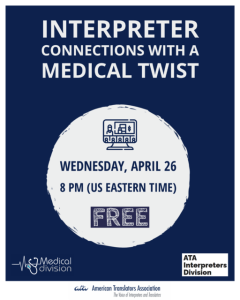 The Medical Division would like to invite you to a joint event with the ATA Interpreters Division: Interpreter Connections with a Medical Twist.
This is a space to get together and have a fun, relaxing time outside a professional conference environment. Both divisions will co-host this event where we will discuss direct marketing in medical interpreting.
Date: Wednesday, April 26th
Time: 8 PM EDT / 7 PM CDT / 6 PM MDT / 5 PM PDT
Length: 1 hour
Event limited to 100 participants, so register now to reserve your spot!
This is a free event for MD and ID members only. To register and ask questions, please email Daniela E. Obregón at interpconnections@gmail.com or Paula Plazas at DivisionsMD@ata-md.org.
We are looking forward to seeing you on the 26th!