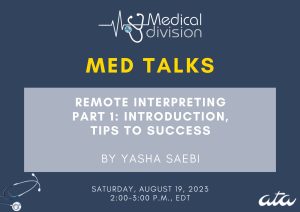 MED Talks are the new ATA Medical Division presentation series, free and open to all Medical Division members!
What: MED Talks on Zoom, limited to 100 participants
When: Saturday, August 19, 2023, at 2:00 p.m. EDT
Length: 60 minutes
Topic: Remote Interpreting. Part 1: Introduction, Tips to Success
Speaker: Yasha Saebi
Description: Yasha Saebi, ATA's Medical Division Administrator, is an experienced certified medical interpreter with more than 10 years of experience in remote interpreting. In this series of talks, she will share some tips with her fellow coworkers that would help them survive challenging assignments.
To register, please fill out this Google form. Contact us at divisionMD@atanet.org if you have any questions regarding this event.
This event is for members of the ATA Medical Division members only. Not a member yet?