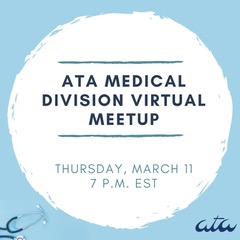 We're very happy to announce this year's first ATA Medical Division virtual meetup. This is an excellent opportunity to network, communicate, and share. You will meet other language professionals, discuss interesting topics, and have a great time. We hope to see you there!
Join us on Thursday, March 11, 2021 at 7-9 pm EST for a relaxed chat among colleagues.
This event is free for MD members. Please register at events@ata-md.org to receive Zoom information!