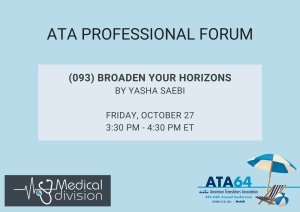 New this year!
Our professional forum, (093) Broaden your Horizons with Yasha Saebi, will be on Friday, October 27 at 3:30 p.m. 
Gather with colleagues to learn about and discuss the many possibilities for new business opportunities to add to the traditional sources of work for translation and interpreting.
---
This presentation is part of the ATA64 Annual Conference in Miami Florida. For more information or to register for the conference, please visit www.atanet.org/ata64/registration/.