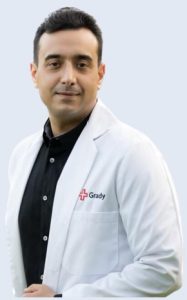 Sam Pournezhad, PharmD, was born and raised in Iran and came to the U.S. in 2005. He has a bachelor's degree in genetics science from the University of California, Davis, as well as a doctorate degree in pharmaceutical science from Touro University, California.
Dr. Pournezhad has a general clinical pharmacy specialty from Grady Hospital in Atlanta, Georgia, and recently completed his critical care specialty and fellowship from Grady Health System. In addition to his role in the intensive care unit, he practices as a Centers for Disease Control and Prevention-trained diabetic educator, and is an adjunct professor at various graduate schools in California and Georgia.
---
Sessions:
Thursday, October 26, 10:45 a.m. – 11:45 p.m.
(005) Post-COVID-19 Health Care Era, Virtual Patient Care, and Language Barriers
Sadly, health care providers at the bedside of patients in ICU units during the pandemic witnessed the death of many patients and team members. The pandemic has changed everything, from our economy to our daily routine and health care practices. Many health care systems have replaced in-person clinics with virtual visits. This session will discuss the significance of virtual interpreting and the challenges that can arise when miscommunication occurs. To illustrate, the speaker will examine a real-life case involving a diabetes patient who tragically lost her life to COVID-19 after experiencing difficulties with interpreting services during a virtual visit.
Topics: Medical T&I, Science and Technology T&I
Presenting Language: English
Hashtag(s):
#ATA64, #ATASkills, #ATAcpd
---
Friday, October 27, 2:00 p.m. – 3:00 p.m.
(069) Traveler Medical Chart Translation and Treatment Challenges
This session will explore the differences in health care systems across various countries, including the challenges posed by language, cultural differences, and systemic issues. The speaker will discuss a real-life scenario involving an Iranian patient who came to the U.S. with limited English proficiency and required hospitalization. Unfortunately, because the patient's medical charts were translated inaccurately, he ended up needing an extended stay and a costly operation. This situation highlights the importance of having staff with specialized expertise in translation to ensure optimal patient outcomes and to avoid unnecessary costs to the system.
Topics:
Medical T&I, Science and Technology T&I, Languages of Limited Diffusion
Presenting Language:
English
Hashtag(s):
#ATA64, #ATASkills, #ATAcpd